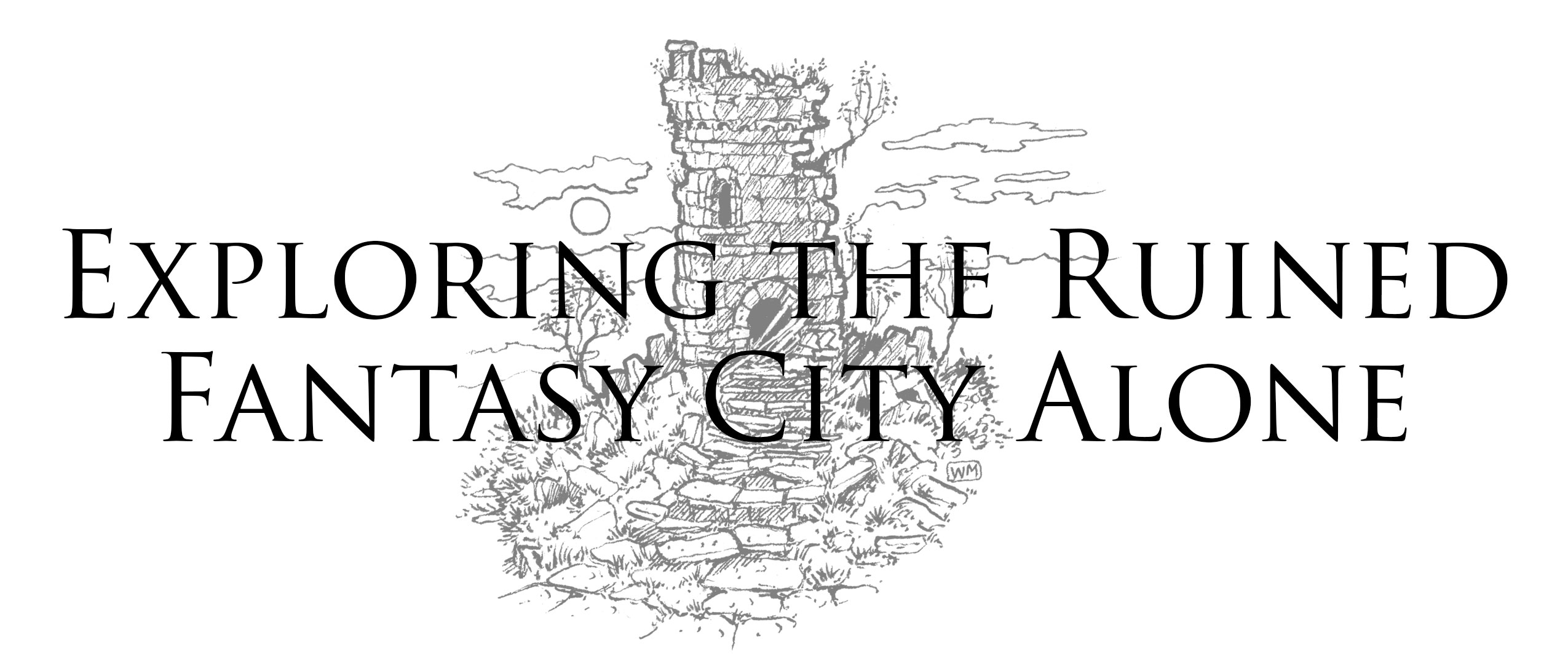 Exploring the Ruined Fantasy City Alone
Exploring the Ruined Fantasy City Alone is a hack of Takuma Okada's Alone Among the Stars.
This is a journaling game requiring one player, a pack of 52 standard playing cards and a six-sided die (1d6) or another suitable randomizer.
You are an explorer of the ruined cities of a fantasy world, cities that may have been destroyed by natural disaster, war, monster invasion or renegade magic, or even simply abandoned for an unknown reason. They may have been ruined for years, decades or centuries. They are dangerous places, full of monsters and the debris left over from their destruction. Strange magics and deadly traps may linger on to catch the unwary. You, and others like you, still explore these places. Though many may have picked through the ruins before, their very nature discourages most from even attempting, and who knows what lost items you may find beneath the rubble of a collapsed building?
See the video preview for a look at the full supplement.
Some artwork copyright William McAusland, used with permission.

Purchase
In order to download this game you must purchase it at or above the minimum price of $2 USD. You will get access to the following files:
Exploring the Ruined Fantasy City Alone - Layered PDF
383 kB
Exploring the Ruined Fantasy City Alone - Plaintext File
3 kB
Exclusive content
Support this game at or above a special price point to receive something exclusive.
Community Copies
If you can't afford to buy a copy, please help yourself to one.

Comments
Log in with itch.io to leave a comment.
​On top of being a solid solo game, this can be a great worldbuilding tool for fantasy campaigns.
At some point, I'd like to integrate these together into a combination game.
I was just thinking this as I was preparing to write a review about the Hex wilderness Exploration version. I'd love to use them all in some form or another in my own campaign games.